Booking
If you'd like to discuss your project please drop me a line at Fatlotsheknows@gmail.com
I'm happy to travel from my base in the north west of the UK as required.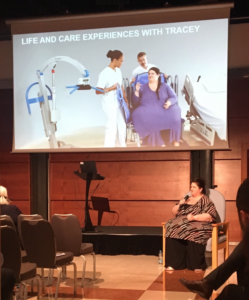 Delivering Seminars
I'm happy to deliver seminars and teaching sessions on a wide range of subjects. My favourite topics include dignity, discrimination and equality of care but I can tailor my content to help you achieve your specific aims.
Moving and Handling Training
I have over 20 years experience of being moved with various techniques and many different types of equipment. I don't have any professional qualifications so I don't teach Moving and Handling – but I can work with you and your staff to give real time feedback on the patients perspective and the best ways to improve care.
Communication
Finding the right words to use can be vital when communicating with service users. I can offer suggestions and advice gathered from a worldwide community of larger people on the best ways to tackle those difficult conversations.
Discrimination
I can tell you and your team exactly how it feels to be facing size discrimination. I have experienced first hand the sideways looks and whispered comments that unthinking people assume go un-noticed. If you're looking to ensure equal treatment for all your Service Users my input can help address size discrimination.
Product Evaluation
I love testing and evaluating new equipment. I'm happy to work with you during the research and development stages or at the pre-launch stage. I will give honest feedback, and I can pass on my views in still images, video, or a written report depending on what's required.
Product Demonstration
I'm always happy to present live and to demonstrate equipment at Trade Shows, Exhibitions and Conferences.
Modelling
I'm happy to be a model for video or still commercial photography.